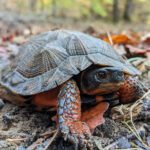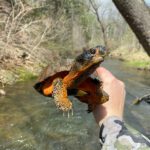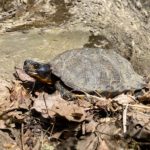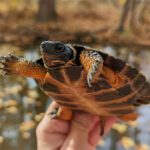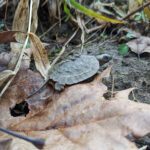 "As is often the case for wildlife, agriculture, livestock pastureland, and ever-sprawling urbanization have fragmented, degraded, or eliminated the habitats North American Wood Turtles rely upon to thrive."
The range of the North American Wood Turtle spans several geographic regions of the United States and Canada, from the western peripheries of the Great Lakes to Maritime Canada and south through New England, the Mid-Atlantic, and into Northern Virginia. There, the North American Wood Turtle finds refuge in a mosaic of riparian woodlands, moist meadows, vegetated floodplains, swamps, agricultural land, and upland hillsides. The most important requisite is that these habitats are adjacent to cool, clear, or relatively clear streams, creeks, and rivers.
The natural history of the wood turtle is one of a Jekyll and Hyde-like utilization of the landscape. For much of the year they are a turtle obligated to an aquatic lifestyle where they breed and brumate (reptilian hibernation). During the other, they are a turtle who moves between terrestrial habitats, sometimes many kilometers per year. During summer heat spells or drought, the North American Wood Turtle often returns to the water and its immediate surroundings.
Once an abundant turtle, habitat fragmentation, alteration, and destruction, road and railroad mortality, increased predator populations, collection for the pet trade, and climate change, among other threats, have severely depleted, if not altogether extirpated, populations. Due to this, the North American Wood Turtle is regarded by the International Union for the Conservation of Nature (IUCN) Red List as Endangered, and is now protected in every United States state and Canadian province in which they naturally occur, ranging in conservation status from a Species of Special Concern to Endangered. To help wood turtles, please never take one from the wild, do not purchase illegally collected turtles, use best land management practices for wildlife, and report any sightings to your state or provincial herpetologist or wildlife resources department.
---