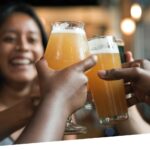 TURTLE SURVIVAL ALLIANCE
Drink Beer. Save Turtles.®
Raise a glass to turtle conservation! Turtle Survival Alliance partners with brewers, taprooms, zookeeper associations, and other organizations to raise funds and awareness around the plight of tortoises and freshwater turtles. Together with our Conservation Partners, we organize family-friendly events complete with specially brewed beers, original merch, and interactive experiences with live turtles and tortoises.
Since 2014, our fantastic volunteers and attendees have gathered in 14 states in the name of chelonian conservation. In 2022 alone, we hosted 25 events and debuted 10 exclusive beers, all with the help of the American Association of Zookeepers and several zoological and herpetological societies. Together, we have raised over $40,000—and counting!
Want to become a Drink Beer. Save Turtles.® Conservation Partner in 2023?
Contact Chelsea Rinn at [email protected]
Shop Our Merch
Upcoming Events