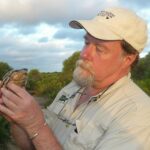 Rick Hudson
Board of Directors - Ex-Officio
Rick Hudson earned a degree Biology from the University of Richmond in 1977 and has been employed by the Fort Worth Zoo for the past 42 years. He was a Curator in the Fort Worth Zoo's renown Department of Herpetology for twenty years, before moving to the zoo's Conservation & Science Department in 2000 as Conservation Biologist. In 2001, Rick organized an IUCN Asian Turtle Workshop – Developing Conservation Strategies through Captive Management – that led to the formation of the TSA which has grown into a global organization that is widely recognized as a strategic force for turtle conservation. Today Rick serves as President of the TSA which has programs in over twenty countries and a Turtle Conservation Center in South Carolina.
He is also well known for his work with endangered iguanas and played a leading role in the organization of the IUCN Iguana Specialist Group and the International Iguana Foundation, for which he serves as Executive Director.
In 2007 his turtle conservation work was recognized when five zoos working through the TSA received the AZA International Conservation Award for Strategic Partnership for Asian Turtle Conservation. He was twice nominated for the one of the world's most prestigious conservation awards – the Indianapolis Prize, and in in 2012 was the recipient of the Behler Turtle Conservation Award which honors excellence, outstanding contributions, and leadership in the international chelonian conservation community.
In 2021, Columbus Zoo and Aquarium named Rick as the recipient of the Zoo's Commitment to Conservation Award in recognition of over 20 years of working to ensure the survival of endangered iguanas and turtles.