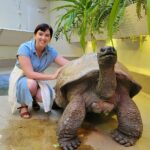 Makayla Peppin-Sherwood
Grants Manager
Makayla Peppin-Sherwood joined the Alliance in July 2023 as the Grants Manager. She also works on regional outreach initiatives for the Turtle Survival Alliance; she is passionate about teaching the next generation about turtles and tortoises. Makayla has always had a passion for the natural world; from a young age, you could always find her playing in the mud, fishing with her dad, catching garter snakes, or stargazing. She received her Bachelor's in Physics with a concentration in Astronomy from the University of Central Florida in 2020. During this time, she worked for the Center for Lunar and Asteroid Surface Sciences researching the geotechnical properties of regolith (space dirt) for ISRU applications. In 2023 she began her Master's in Museum Studies at the University of Leicester.
In 2020 she got her first reptile, a bearded dragon named Mushu, and her passion for reptiles exploded. She now has her own menagerie, with 13 reptiles (4 of which are tortoises!), 3 dogs, and 4 tarantulas. Makayla and her husband James opened Grape Vine Exotics in 2023 where they will be breeding Spotted Pythons, Neon Day Geckos, and Mexican Red Leg Tarantulas.
When she's not at work or studying, Makayla enjoys scuba diving, spending time with her husband and family, foraging, gardening, volunteering with Advancing Herpetological Husbandry, and volunteering at the Charleston Museum.