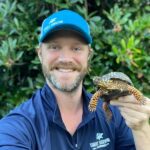 Jordan Gray
Education Coordinator
Jordan joined the TSA in February 2017 as the new Communications Coordinator. A native of Virginia, he has lived in numerous American states and abroad, all of which have provided various opportunities for him cultivate his passion for chelonians. Involvement with conservation and wildlife research began early for Jordan as he would regularly accompany his father into the woods to perform field research.
While studying at Armstrong State University in Savannah, Georgia, Jordan cofounded the Terrapin Educational Research Program of Savannah (T.E.R.P.S). After graduation, he relocated to become an animal care and outreach technician for the Houston Zoo. There he began working with the Turtle Survival Alliance through the North American Freshwater Turtle Research Group.
Ultimately, Jordan hopes to utilize his passion for educational outreach to foster an appreciation for turtles and tortoises as well as promote stewardship of their habitats.