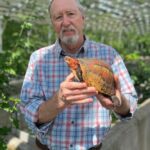 Dave Collins
Director of Animal Care & North American Field Programs
Dave joined the Turtle Survival Alliance in July 2021 as Director of North American Turtle Conservation and Program Leader of the AZA SAFE: American Turtle Program.
Dave holds a bachelor's degree in Biology from the State University of New York at Albany and brings over 40 years of experience in Zoos and Aquariums. He began his zoo career at Jacksonville Zoo where he was responsible for the first Northern Hemisphere breeding of the Aldabra Tortoise. In 1983 he returned to New York to help reopen Burnett Park Zoo in Syracuse. There he conducted field studies of Bog, Spotted, and North American Wood Turtles. He continues to monitor an Upstate New York North American Wood Turtle population that he discovered in 1973. In 1991, Dave joined the Tennessee Aquarium as Curator of Forests, becoming Director of Forests and Animal Behavior in 2017. There he assembled one of the largest living public collections of turtles in North America. In 1997, he designed the long-running exhibit, "Turtles: Nature's Living Sculptures," and completed a major renovation of the gallery in 2020.
His most recent efforts have focused on combating the illegal trade in North American turtles through the development of the AZA SAFE: American Turtle Program, a perfect fit for TSA's expanding role in the conservation of North American turtles.