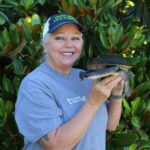 Nita Yawn
Chelonian Keeper
Nita joined the Turtle Survival Alliance team in January of 2023, after working with and being surrounded by animals her entire life. From working with horses in her native Kentucky, to managing an extensive apiary here in the Lowcountry of South Carolina, her passion for conservation and environmentalism has been at the core of her private and professional life.
After some time spent in corporate America, she knew the path to her own happiness and fulfillment was leading her back into working with animals. The opportunity to spend hands-on time with critically endangered turtles has been both rewarding and humbling. Being part of a team who values and respects the lives of the creatures we share this planet with is what makes all of the hard work and effort worth it.
Some of her interests outside of work include bulldogs, music, skydiving, motorcycles, racing, and boating.